Extra! EXTRA! Read all about it!
(No, seriously... this. is. EXTRA!)
One of our most sought after designers -- Demetrios, renowned for breathtaking elegance and intricate detailwork -- has granted us exclusive access to some of the label's most exquisite Platinum collection gowns for a limited time starting on January 29th and ending on February 14th. That's right -- in the spirit of love, our event has been extended through Valentine's Day this year! This is a once in a blue moon Pop-up Shop happening within our boutique walls that you absolutely do not want to miss.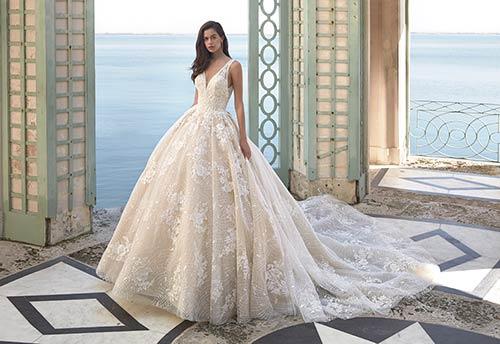 These exclusive gowns are only visiting us this Friday, 1/29 through Sunday, 2/14 (Valentine's Day). PLUS, new Platinum collection gowns will be making surprise visits throughout the event too, which we will announce LIVE via Facebook and Instagram as each one arrives! Our weekend appointment slots for this pop-up are nearly full, so don't wait too late to reserve your time with these couture-level gowns!
BONUS: We have exclusive special offers for our brides during this EXTRA special event! We are giving away a FREE veil or headpiece valued up to $200 with each Platinum gown purchase! Our "sister" designer labels from Demetrios are getting in on the excitement too with $100 off when you say YES to any gown from the Demetrios, Cosmobella or Destination Romance collections!
Stay tuned for updates on our Facebook and Instagram too, and let us know which gowns you're most excited to see in-person. We cannot wait to see you in these showstopper styles! If you've already fallen in love with your Demetrios gown, but have yet to officially say YES to the dress, feel free to give us a call and we will apply the exclusive promotional discount when you place your order during the event!
XoXOxO,
Your #bridalbestie
NOTE: $100 discount is applicable on Demetrios, Cosmobella and Destination Romance collection gowns only and will be applied when both the bride says YES to her dress during the event time frame and the minimum required dress deposit is made, per Camille's sales/special order agreement. Free veil or headpiece promotion (up to $200) is applicable to Platinum collection gown purchases only. Multiple promotions cannot be combined.